Academic Solutions
·
Article
First Day® Complete: Driving Positive Student Outcomes (Infographic)
July 13, 2022
2022 Student Success Survey
In May 2022, through its proprietary research segment, Barnes & Noble College Insights, Barnes & Noble College conducted an online survey for all students who participated in the First Day Complete program during the Spring 2022 semester. Based on 2,440 responses across 76 campuses , representing students from community colleges, four-year public and four-year private institutions, students provided strong positive feedback about the impact First Day Complete has on their academic success
The results of the survey underscore the significant positive impact First Day Complete is having on student outcomes, enhancing access, convenience and affordability, which is driving the continued adoption of the program on campuses nationwide, from small private colleges to large public universities and multi-campus community college systems.

More Insights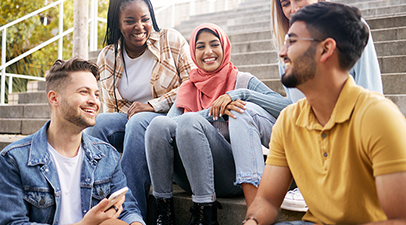 Academic Solutions
· Article
5 Innovative Ways to Support Student & Campus Well-Being
College students are seeking support as they address stress and anxiety and create paths to greater self-care. Institutional partners and well-being experts from the University of Maryland, the University of Tampa, Lifelines and Rae Wellness highlight how campus stores are sparking conversations and connecting students with tools to improve well-being.
Academic Solutions
· Article
Positive Student Feedback: First Day Complete 
Students confirm that First Day Complete helps them be better prepared for class (86%), has a positive impact on their success (83%) and helps them get better grades (75%).