Retail Reimagined
·
Article
Engaging Alumni with Tailored Ecommerce Sites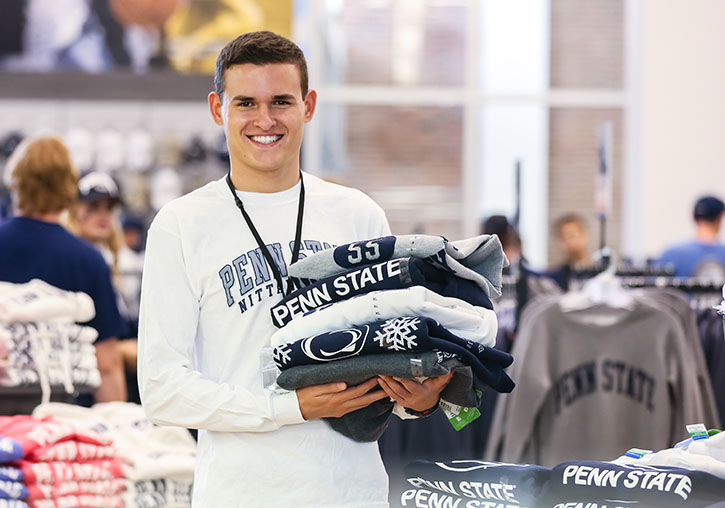 December 12, 2019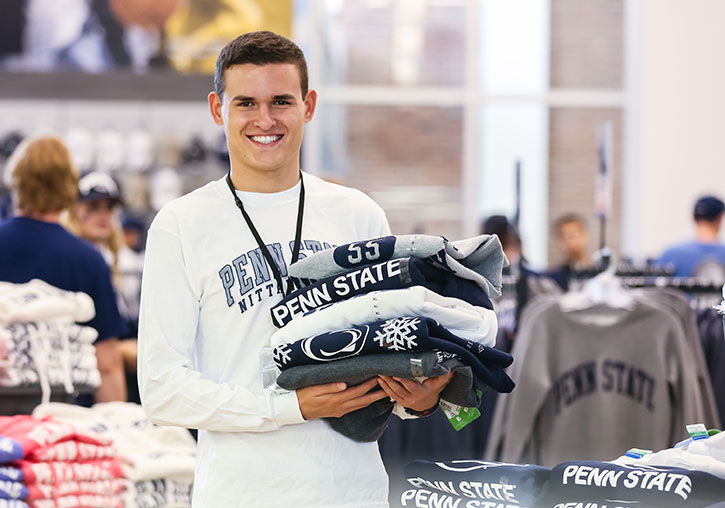 Alumni-focused retail initiatives provide a valuable outlet to expressing school pride – one that's tailored more effectively to alumni of all ages and stages of life. While some alumni associations manage their own retail locations and/or e-commerce websites, the logistics can be challenging, from inventory management to payroll.
Partnering with Barnes & Noble College on alumni-focused retail locations and/or e-commerce sites can ease the operational burden for alumni associations. Barnes & Noble College has the retail expertise, campus relationships and institutional history to deliver the custom experiences alumni expect for partners like the Penn State Alumni Association.
Infrastructure and logistics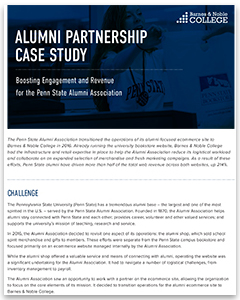 When Barnes & Noble College operates a school's bookstore, it already has significant infrastructure in place and has built relationships with important constituencies on campus as well as vendor partners. Expanding operations to include alumni is a natural fit. The alumni association remains involved in key decision-making, but it can devote more resources to core priorities, such as alumni engagement and advancement efforts, rather than logistics.
The Penn State Alumni Association decided to pursue this type of partnership in 2017, transitioning operations for its alumni e-commerce site to Barnes & Noble College. As the university's bookstore operator since 1993, Barnes & Noble College already had a strong working relationship with the Alumni Association, supporting a seamless transition.
The partners developed the new alumni e-commerce site as a True Spirit website, an online, branded store experience tailored directly to the needs of specific communities within a university. Though managed by Barnes & Noble College, both teams work together to drive the site's success – and so far, it's been highly effective. Alumni email campaigns, developed collaboratively, have driven more than half of the total web revenue on the site.
Alumni email campaigns now drive more than half of the total web revenue on the site.
Collaboration
While bringing in a retail partner can provide operational relief, alumni associations still want to be informed and involved in creating meaningful experiences for their members. Barnes & Noble College works closely with alumni associations to select the right mix of merchandise and integrate all marketing efforts. Communications are coordinated in terms of timing and frequency to avoid over-messaging – and ensure consistency across all channels.
At Penn State, the Barnes & Noble College home office and store team meet monthly with the Alumni Association marketing team and management to review performance and prepare for the month ahead. They also collaborate throughout each month on marketing campaigns and promotions that speak meaningfully to their audience.
"The Alumni Association wanted to be sure that even when we are marketing a specific promotion, we are telling a story, not just pushing product," said Cathy Pacheco, regional manager, Barnes & Noble College. "We work very closely together, cross-merchandising our emails and creating the right look and feel to tell the right stories."
Customization
Barnes & Noble College also brings alumni associations the benefit of its unmatched retail expertise. In addition to extensive national trend research, Barnes & Noble College draws on its experiences at individual schools and the unique characteristics of each campus community. Paired with an alumni association's member data and insights, the partners can create a truly customized experience that keeps alumni connected to their school – and incentivized to purchase spirit gear and other merchandise.
The Penn State alumni base is the largest and one of the most spirited in the U.S., and it was vital that the alumni e-commerce site deliver the enhanced, deeply personal experiences the community seeks. Barnes & Noble College ensures that alumni feel the connection right down to the way orders are packaged.
"Penn State has a statement called 'We Are …" and when we see another Penn Stater, it just comes out, even if we don't know the other person. We say 'We Are …" and they yell back 'Penn State!' It's so true to who we are," said Jennifer Guyer, bookstore manager, Penn State. "When you get your order from us, the tape on the outside of the box might say Penn State Alumni Shop or have the little logos on it, but it's really saying 'We Are …' You're getting that shared experience because the box is basically shouting it to you."
Connection
Penn State alumni also like to keep abreast of what's happening on campus, including the traditions they enjoyed as students. Barnes & Noble College and the Alumni Association look for opportunities to reinforce those connections.
For example, THON is an organization that means a great deal to many in the Penn State community. Organized in 1973, it's the largest student-run philanthropy in the world. Through events like its signature 46-hour dance marathon, it has raised $168 million to enhance the lives of children and families impacted by childhood cancer.
"Knowing that our alumni are still very connected with what students are doing now, we ran a special promotion where a portion of sales from purchases made on our website were donated to THON," said Guyer. "It offered alumni another way to stay close to something that has been so near and dear to their hearts."
Keeping alumni engaged is a key priority for most colleges and universities. An e-commerce site and marketing campaigns focused directly on alumni deliver a higher level of customization and service that drives closer connections with their school.
"The Penn State alumni community really appreciates having enhanced experiences with the university and the Alumni Association," said Pacheco. "We work to offer exclusive access and other promotions that meet their expectations."
More Insights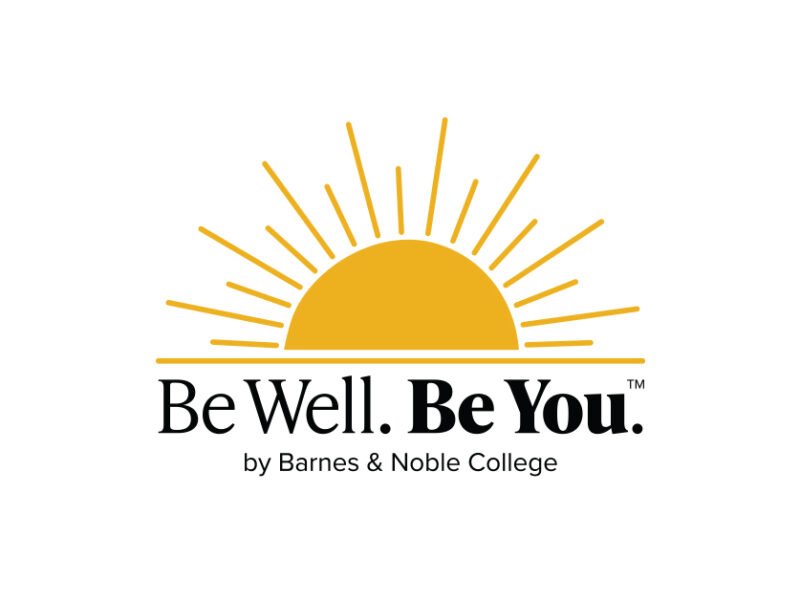 Retail Reimagined
· Article
Supporting Student and Campus Well-Being: Be Well. Be You.™ by Barnes & Noble College
In response to the growing number of students experiencing stress and anxiety, Barnes & Noble College has launched a new initiative to support the well-being of students and the campus communities it serves. Be Well. Be You.™ by Barnes & Noble College, is a thoughtfully curated collection of products that is designed to calm and recharge the mind and body.