Amping Up the College Fan Experience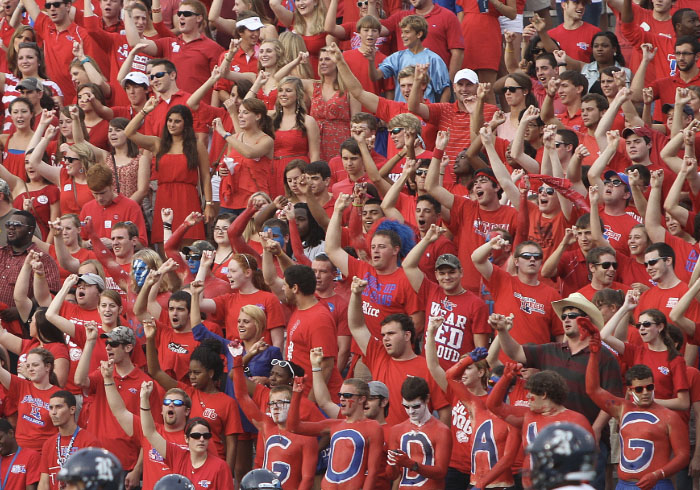 October 23, 2019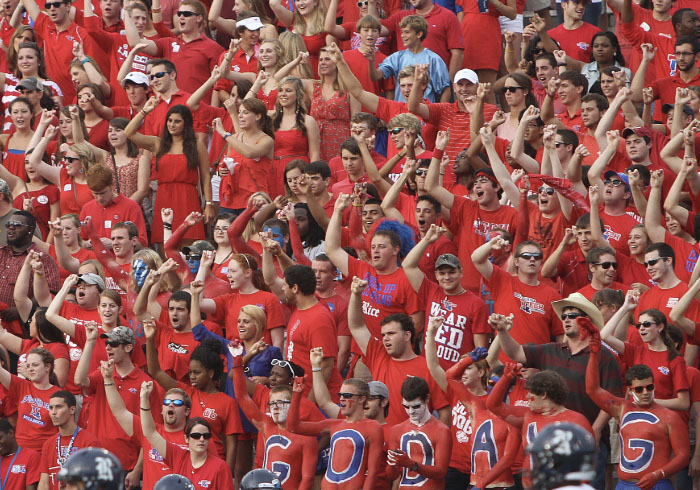 Cheering on your school's athletic teams is one of the most fun and exciting parts of life on campus — and your college store should be part of the action.
Barnes & Noble College is woven into the fabric of the campuses we serve and helping schools celebrate their athletic programs is a natural fit. In addition to our traditional college and university bookstores, we operate best-in-class athletic and school spirit-only store locations and websites. There, we take a hyper-local approach, promoting the most anticipated events, key milestones and rivalry games that resonate with your fans. We also stay nimble to help you take advantage of opportunities as they arise.
As college football celebrates its 150th year, we've put together a quick highlight reel of ways we've recently partnered with schools of all sizes to enhance the experiences of their students, alumni and fans.
Making it Personal
College stores can help capture unique and important moments and turn them into more personal experiences. In Louisiana, O.K. "Buddy" Davis, a passionate sports journalist, passed away after more than five decades of announcing football games for Louisiana Tech University (Tech) and Grambling State University (GSU). The schools decided to name their upcoming game the "Buddy Bowl" in honor of Davis and brought in Barnes & Noble College to help create t-shirts to commemorate the rare match-up.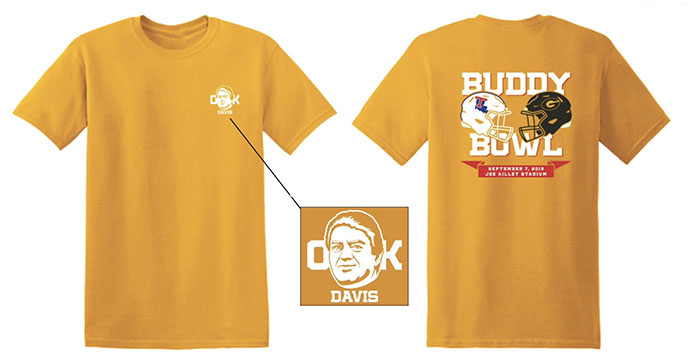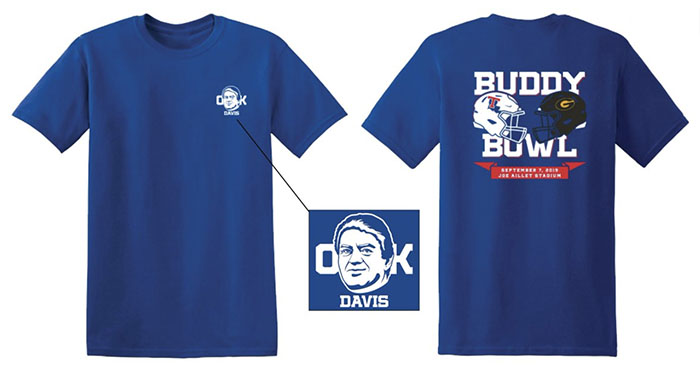 We worked with both athletics departments and our vendor, Club Colors Marketing, to set up a landing page selling the vibrant shirts in Tech blue and GSU gold. Fans were able to purchase the shirts online and pick them up on campus in time to show their school pride at the Buddy Bowl. Proceeds from the sales at both schools were used to fund student scholarships.
Celebrating in Style
The post-season is also a busy time for college stores as we work to deliver the conference and bowl-related merchandise fans are eager to buy. In 2017, New Mexico State University (NMSU) played in — and won — the Arizona Bowl, its first bowl game in 57 years. Fans were pumped up and the game attracted a record-breaking crowd of over 39,000, most of whom were there for NMSU. We helped the school capitalize on the momentum and fans celebrate the victory with a range of merchandise available in store and on the dedicated online apparel site. Over 10 days, the bookstore sold nearly $50,000 in school spirit merchandise.
Customizing for Your Campus
Each college or university is different, and we can lend our athletics and retail expertise to fit an individual school's needs. GSU is home to the Eddie G. Robinson Museum, a landmark recognizing the contributions of the legendary GSU coach. He led the GSU football team to 408 wins from 1941-1997, becoming NCAA Division I football's all-time winningest coach.
In addition to the GSU campus bookstore, Barnes & Noble College operates the museum store and provides merchandise and event support when the museum welcomes tours and special guests like Hank Aaron, Urban Meyer and Nick Saban. On what would have been Coach Robinson's 100th birthday, we created special shirts to mark the occasion, and we continue to look for fresh merchandising opportunities to serve museum visitors.
Fans can be some of the most enthusiastic and passionate supporters of colleges and universities. Barnes & Noble College helps schools harness that spirit and build stronger connections with their students, alumni and fans.
More Insights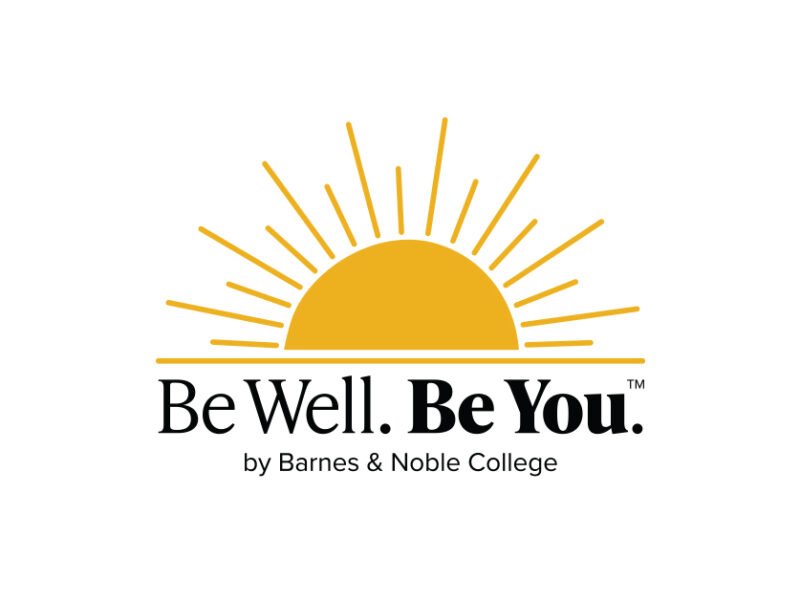 Retail Reimagined
· Article
Supporting Student and Campus Well-Being: Be Well. Be You.™ by Barnes & Noble College
In response to the growing number of students experiencing stress and anxiety, Barnes & Noble College has launched a new initiative to support the well-being of students and the campus communities it serves. Be Well. Be You.™ by Barnes & Noble College, is a thoughtfully curated collection of products that is designed to calm and recharge the mind and body.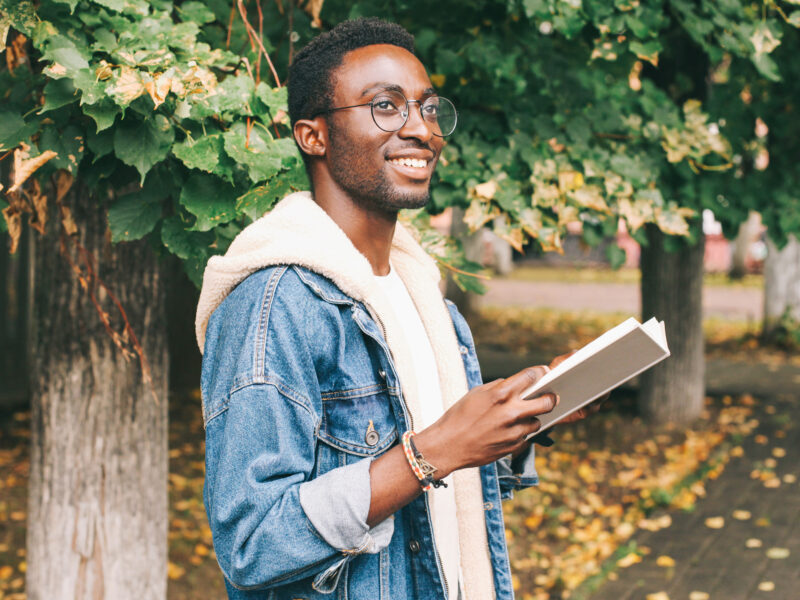 Academic Solutions
· Article
What Fall 2022 Tells Us About Spring 2023 – and Beyond
Barnes & Noble College keeps a finger on the pulse of what's driving success for our campus bookstores and the communities they serve. Here are a few key observations to keep in mind as we prepare for the next semester – and even the next academic year.